May 3, 2010
It's A Piece Of Steak! is a bag with a picture of a steak on it. You should buy one from the etsy!
January 29, 2010
Here is a selection of topical headlines from Fake News Web Colossus, The Onion:
Piggly Wiggly Scouting Report Indicates J.J. Hardy Enjoys Rib-Eye Steaks
MILWAUKEE—A Piggly Wiggly-sponsored scouting report shown during an at-bat by Brewers shortstop J.J. Hardy Sunday indicated that his major weakness is a hankering for Piggly Wiggly-brand certified angus beef boneless rib-eye steaks, now just $4.99 a pound.
Dozens Dead In Chicago-Area Meatwave
"The excessively high level of pork loins, sirloin tips, bratwurst, and other meats was indisputably the number-one factor in these deaths," said Chicago mayor Richard Daley, speaking from his temporary command center at Ruth's Chris Steak House on North Dearborn Street.
I Wish I'd Spent Valentine's Day Eating A Prix Fixe Dinner, But I Was Too Busy Getting Beheaded
After all, it's a little hard for the man of the hour to eat a steak when his mouth is no longer attached to his esophagus. — St. Valentine
New 'Steak & Onion' Potato Chips Taste Disturbingly Like Steak And Onions
MONTPELIER, VT—A bag of Murley's Steak & Onion Potato Chips deeply disturbed Montpelier-area snacker Vince Houghton Monday, delivering an artificially created flavor so similar to actual steak and onions as to be unsettling.
And from the Radio:
Listen: Microwavable Steak Renews Area Man's Faith in Humanity
October 28, 2009
You can follow our twats by clicking this link

June 16, 2009
I just now heard about Damon's Steakhouse 70th Anniversary Meatfest, that happened a while back. That would have been super fun! Maybe we'll catch them on the 75th!
Meatfest! via Gridskipper
June 15, 2009
Car Counselor: Steak and service | West Seattle Herald
Auto repair is a lot like that steak. There are many choices in where to take your vehicles for service, and sometimes a wide range of prices for service. A shop that is properly equipped and employs well-trained and experienced technicians may seem more expensive at first, but before you choose the lower-priced options, examine what you get for your money.

June 10, 2009
BONER PARTY!!!
because in italy its ok to be totally retarded over fashion, right? blah blah blah shes hot blah blah blah. eat steak and read books. blah blah.
June 3, 2009
August 1, 2008
January 25, 2008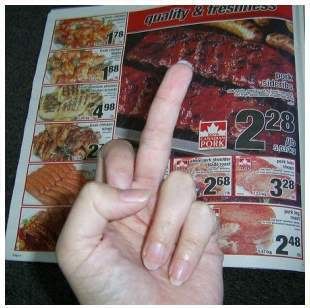 Fuck You Disgusting Flesh Ads! on Flickr - Photo Sharing!
This personal form of activisim I find quite interesting.
Take a picture of yourself giving the finger to stuff you hate, like Steak.
[update: 2/28/08, veganbutterfly removed this most evocative and compelling picture. boo hoo!]
January 7, 2008
Items from various places [old but interesting]:
Older Posts »